​
NEWSFLASH..NEWSFLASH..NEWSFLASH..NEWSFLASH
Due to interest, we're going to give everyone a bit of extra time to keep the referrals rolling in. Ends 31st July 2023.
Is anyone in your network looking for new career opportunities in Research, Insights or Data Strategy? And is your office wardrobe in need of a little re-fresh this winter??
​For referrals to our Australia Office from now until 30th June 2023, Refer-a-friend to earn $1000 cash PLUS entry to win a $2000 Westfield voucher!! 💵 💵
T&Cs below.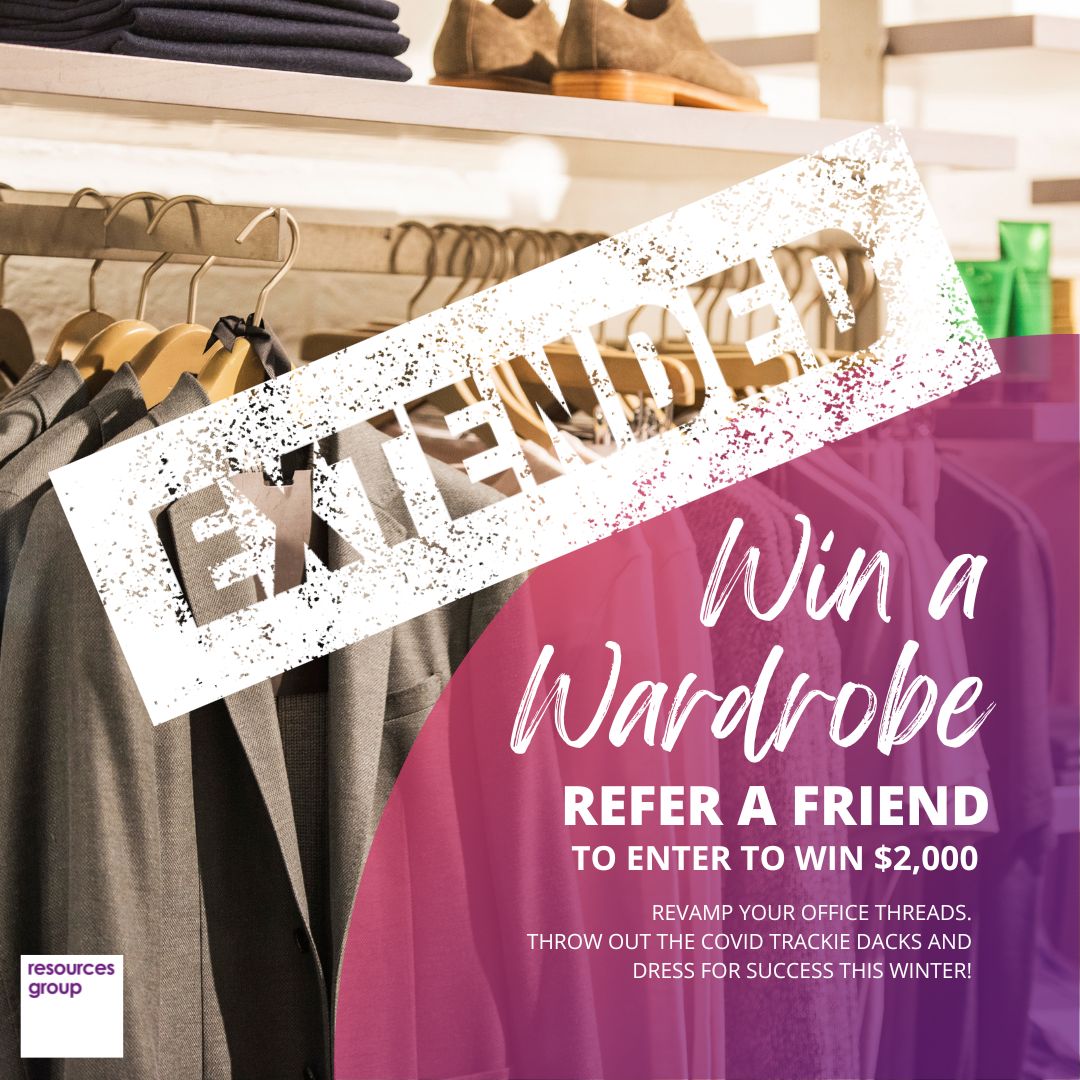 RESOURCES GROUP APPLICANT REFERRAL BONUS – terms and conditions
We'll always do the best job we can for you – if you're happy to recommend us then we'll know we've succeeded! To encourage and reward referrals, Resources Group provides a 'Referral Bonus' for referrals that lead to a successful placement as follows:
£500 (UK referrals) or AU$1000 (Australia/APAC referrals)
Just so we're all clear, we've set out some terms for the scheme below:
All candidate referrals must be confirmed in writing to Resources Group before we start work with the new applicant; referrals cannot be accepted retrospectively

Only those referrals that result in a full-time, permanent placement will qualify for the bonus

Any candidate referred to Resources Group must be placed by Resources Group within 3 months of the referral date

The person referring must obtain prior consent from the potential candidate before referring to Resources Group and the individual/candidate must be aware that they are being referred to Resources Group

The referral bonus is paid at the end of Resources Group's 12 week placement guarantee (or after any different guarantee period agreed with the client/employer) for permanent placements. No bonus is payable if the employment is terminated for any reason during the guarantee period

The offer is not open to a referred candidate who is already known to or registered with Resources Group at the time of the referral

The bonus scheme is not available to employees of Resources Group

There are no limits to the number of referrals that can be made

Information supplied will only be used in accordance with this scheme and not passed to any third parties

The candidate referred must be eligible to work and live in the UK or Australia

Resources Group reserves the right to amend, modify, cancel or withdraw the "Refer a Friend" scheme at any time and without notice

All information received by Resources Group is taken in good faith and on the understanding from the person referring that they are authorised to pass the information which will be free from any intellectual property claims

The referral scheme is open until 31st December 2023

The bonus is paid as a gross payment and will be paid by bank transfer. The recipient accepts any tax liability and agrees to pay any tax arising from receiving the bonus payment